About Us
Get help to start, manage, and grow your small business in North Dakota.
You have great ideas. Our job is to use our expertise to help make your small business successful. North Dakota Small Business Development Centers (ND SBDC) business advisors have years of experience and know how to help North Dakotans to start, manage, and grow their business. Your success is our goal!
The ND SBDC network of credentialed business advisors empower North Dakota small businesses and entrepreneurs to thrive. We accelerate business growth in communities across North Dakota by providing customized guidance and resources that help owners and entrepreneurs achieve their goals at every stage of their business life cycle. For over 35 years, our network has supported small business owners and entrepreneurs across the state. When small businesses thrive, communities thrive, North Dakota thrives.
Fully Accredited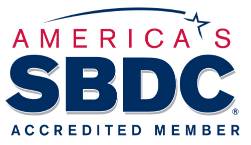 ND SBDC is a fully accredited member of the national Association of Small Business Development Centers, a mandatory national standard for all federal SBDC networks. Our national accreditation recognizes and affirms our high-quality small business assistance and is based on the Baldrige Performance Excellence Program of the National Institute of Standards and Technology of the United States Department of Commerce.
The national accreditation program sets federal SBDC networks apart from other providers of small business assistance and helps to ensure the ongoing quality of our small business services and a process of continuous improvement for service delivery to clients, referral sources and other program stakeholders.
Funding Partners
The SBDC program is a resource partners of the U.S. Small Business Administration (SBA). This federal agency, created in 1953, stimulates and fosters small business development through small business loan and procurement programs, advocacy, and business advising and training. The ND SBDC receives federal funding from SBA with matching funds coming from the Bank of North Dakota, along with local-match partners that include UND, sub-center program hosts, lenders, cities, counties, and economic development programs. A full list of contributing entities can be found in our annual report.
Monthly Newsletter
Our monthly newsletter is meant to keep you informed on small business topics including: webinars/local events for small businesses, new ND programsand opportunities, advisor tips and information, and it features an local small business.
Stakeholder Blog
Our monthly stakeholder blog is meant to keep you informed on the state of small businesses in North Dakota and share how the ND SBDC is working to provide you assistance.
ND SBDC Staff
Photo
Name & Title
SBDC Location Center
Email

Tyler Demars

Bismarck Center Director
MSL, ABI

Bismarck

photo courtesy of Jacy Jo Photography

Laura Weber

Business Advisor
CBA, Rural Entrepreneurship, ABI

Bowman
laura@bowmannd.com

Ashley Louw

Business Advisor
CPBA, ABI

Devils Lake
ashleynpc@gondtc.com

Matt Ellerkamp

Business Advisor
MBA, ABI

Dickinson
matt@ndsbdc.org

Paul Smith

Fargo & Southeast Center Director
MS, EDFP, CVGA, Certified Exit Planning Advisor, ABI

Fargo & Southeast Region
paul@ndsbdc.org

Chris Erwin

Business Advisor
MBA, MSML, CBA, ABI

Fargo & Southeast Region
chris@ndsbdc.org

Nicole Evans

Grand Forks Center Director
CBA, Quickbooks Certified Trainer, Certified Exit Planning Advisor, ABI

Grand Forks
nicole@ndsbdc.org

Brady McCrae

Business Marketing Advisor

Grand Forks
brady.mccrae@und.edu

Mary Beth Votava

Minot Center Director
BCA, CMEA, CBA, VCA, Certified Exit Planning Advisor, ABI, GrowthWheel Certified Business Advisor

Minot
marybeth@ndsbdc.org

Keith Olson

Williston Center Director
BCA, CVGA, CEPA, CBA, ABI, MCMEA, EDFP, CEB, APBA, PMC, Certified Exit Planning Advisor, ABI

Williston
williston@ndsbdc.org

Cyrena Weeks

Business Advisor

Williston
cyrenaw@ci.williston.nd.us

KayCee Lindsey

Business Advisor
CBA, ABI

Williston - Crosby Satellite Office
dcjda@nd.gov

Tiffany Ford

State Director
MBA

Lead Center
tiffany.ford@ndsbdc.org

Marnie Schuschke

Associate State Director

Lead Center
marnie.schuschke@und.edu

Danielle Jones

Communications Manager
CPBA

Lead Center
danielle.jones.1@und.edu
The Center for Business Engagement and Development, our department within the Nistler College of Business and Public Administration, also hosts two additional national business assistance and resource programs. Each of the three programs has its own unique mission and set of services, however they routinely work together to help businesses start and thrive.
ND APEX and VBOC of the Dakotas Staff