About Us
Get help to start, manage, and grow your small business in North Dakota.
You have great ideas. Our job is to use our expertise to help make your small business successful. North Dakota Small Business Development Centers (ND SBDC) business advisors have years of experience and know how to help North Dakotans to start, manage, and grow their business. Your success is our goal!
Our Mission
We help North Dakotans to start, manage, and grow their businesses.
What We Do
We provide confidential business assistance in the form of advising, training, and research that helps you start, manage, and grow your business at little or no cost.
Who We Are
We are North Dakota's collaborative small business development resource.
Our Core Values
Our Network and our Business Advisors value collaboration, accountability, teamwork, service, professionalism, and integrity.
Fully Accredited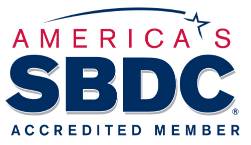 ND SBDC is a fully accredited member of the national Association of Small Business Development Centers, a mandatory national standard for all federal SBDC networks. Our national accreditation recognizes and affirms our high-quality small business assistance and is based on the Baldrige Performance Excellence Program of the National Institute of Standards and Technology of the United States Department of Commerce.
The national accreditation program sets federal SBDC networks apart from other providers of small business assistance and helps to ensure the ongoing quality of our small business services and a process of continuous improvement for service delivery to clients, referral sources and other program stakeholders.
Resources
The ND SBDC is just one of several resources available to you through SBA partner programs. Each program has their own areas of strength and expertise and you are encouraged to use any and all that can help advance your entrepreneurial journey.